DSLUG this year will be in sunny St. Louis at the Marriott St. Louis Grand from April 23-26, 2018. Here's our list of tasty treats, tips for getting the most out of the hotel, and things to do in the area.
Before you begin planning your time in the city, stop by the website to make your conference schedule. You can see all the events at https://www.eventscribe.com/2018/DSLUG/agenda.asp.
Marriott St. Louis Grand Tips

Breakfast.
A recent traveler on a business stay says that there is a Starbucks in the lobby and "the restaurant serves a decent breakfast." Other travelers warned that the line at Starbucks could get very long, so be prepared if Starbucks is your preferred coffee. Also, one traveler wrote that "The club room is open weekdays and provides an outstanding buffet breakfast, lavish happy hour and then dessert bar later in the evening." It sounds like you should advantage of the club room if you have the time!
Parking.
One traveler wrote that parking was $25 ($35 for valet) and highly recommended staying at this hotel. Another business traveler noted that they "used GoBest Shuttle service from the airport and round trip was about $45 which was convenient and a lot cheaper than other modes of transport."
General room tips:
"Stay on the 18th floor if possible so you have access to the Club Room."
"Specifically ask for the North Tower and higher floor for a better view."
"Ask! The staff seems very willing to accommodate requests."

things to eat while in St. Louis

With a GSA per diem rate of $54/day, you'll have a few options for some good food nearby the hotel/conference center. These nearby restaurants sound positively mouth-watering!
Mango Peruvian Cuisine ($$-$$$)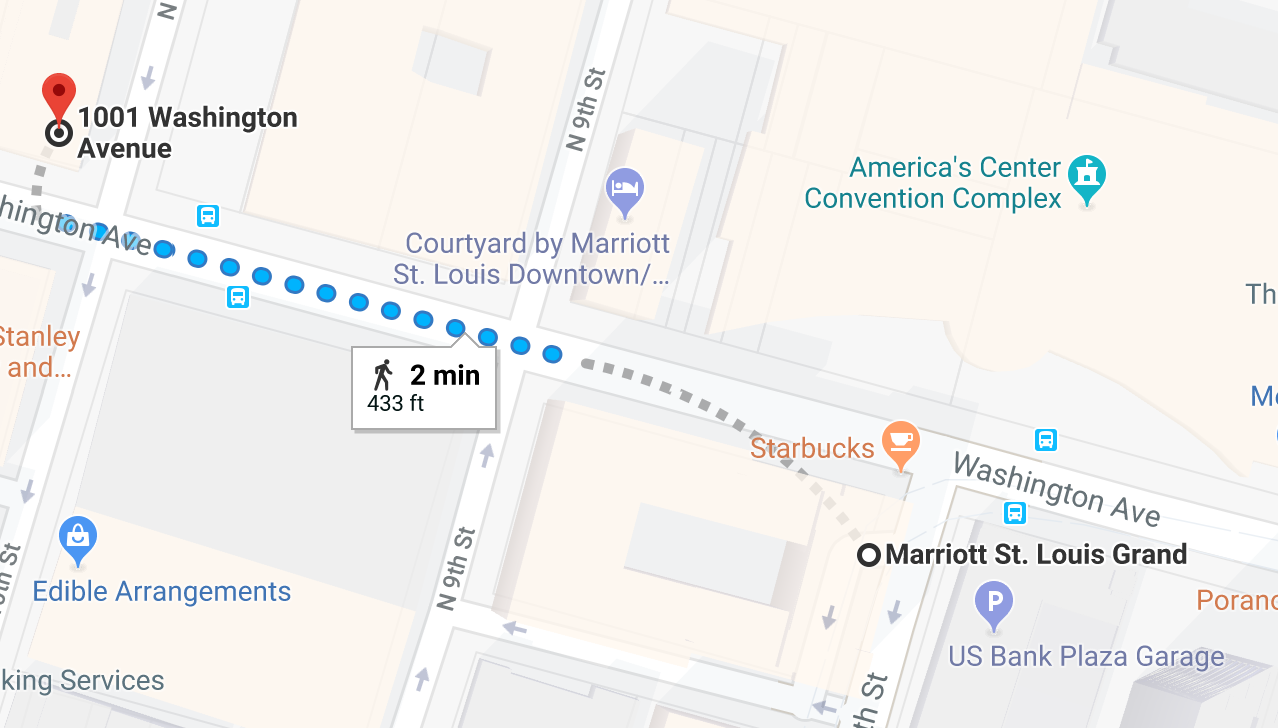 At #8 on TripAdvisor's list of restaurants in St. Louis, this Peruvian restaurant gets lots of patrons commenting on its ceviche, plantain chips, and pisco sours.
Taze Mediterranean Street Food ($)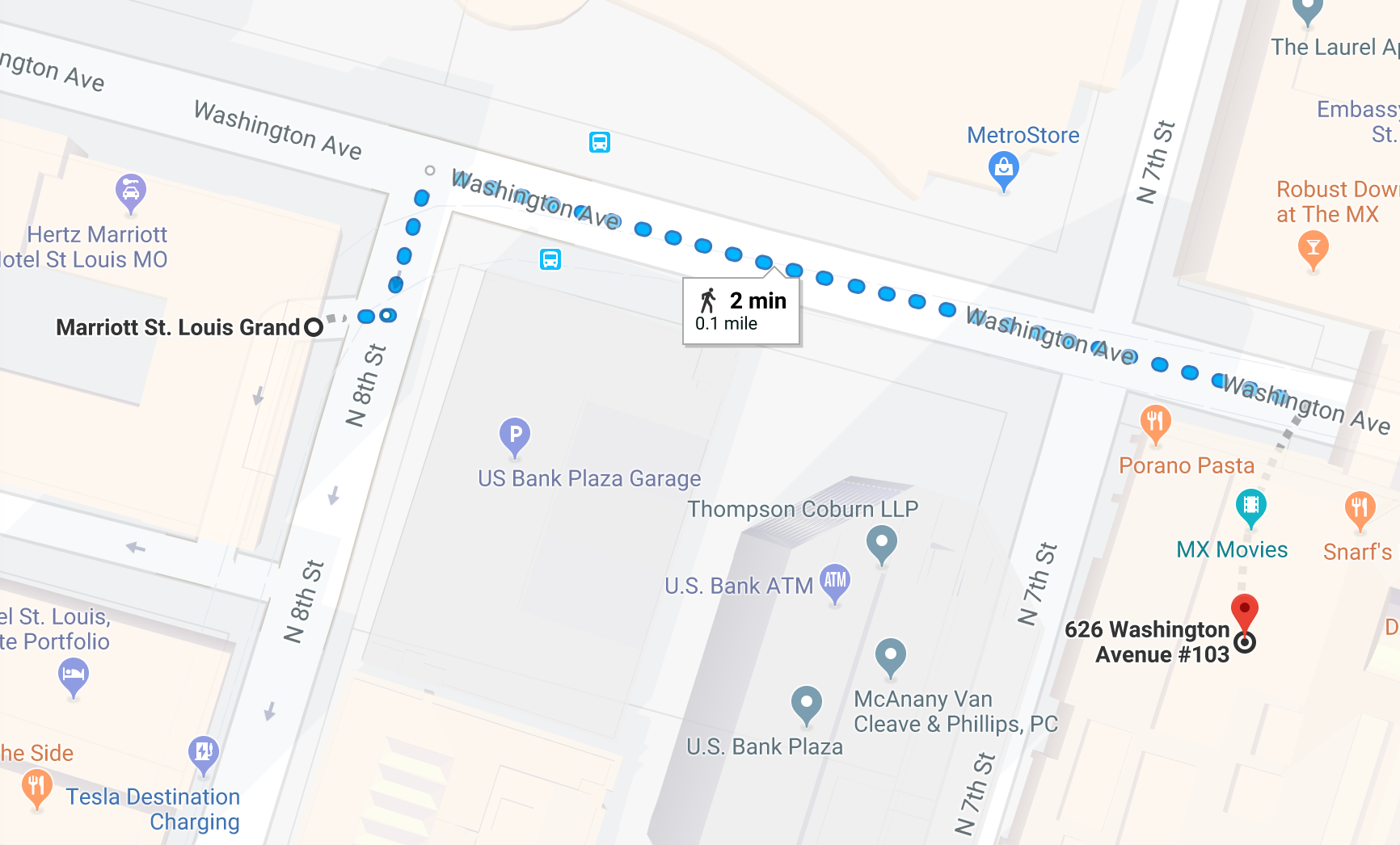 This street food sounds delicious and it's just around the corner from the hotel. Visitors recommend the hummus, beef lamb, and saffron rice.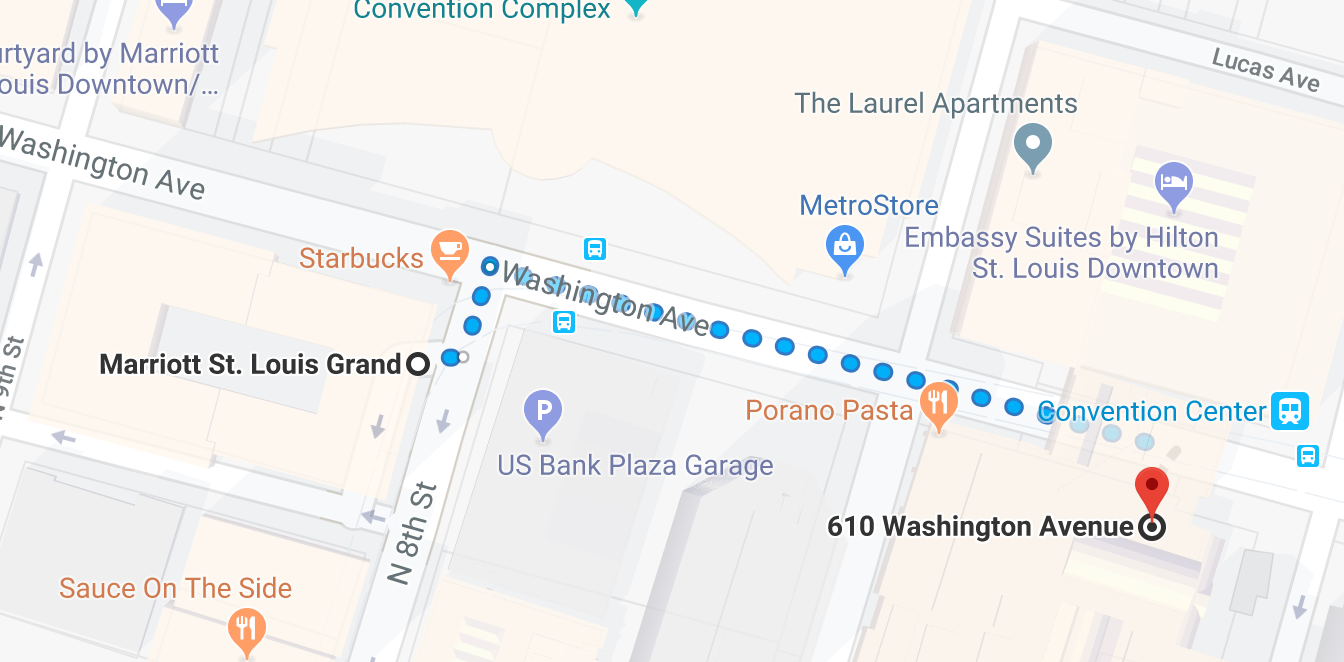 This pizza place is also just around the corner from the hotel and offers highly-rated pizza (and gluten-free pizza too!). One traveler even commented that "This eatery is the perfect antidote to a long day at the convention." They get high marks for their garlic bread and their Chicago-style deep dish pizza.
---
Related Article: 5 TEDtalks That MS Dynamics Users Will Eat Up
---

Things To Do in St. Louis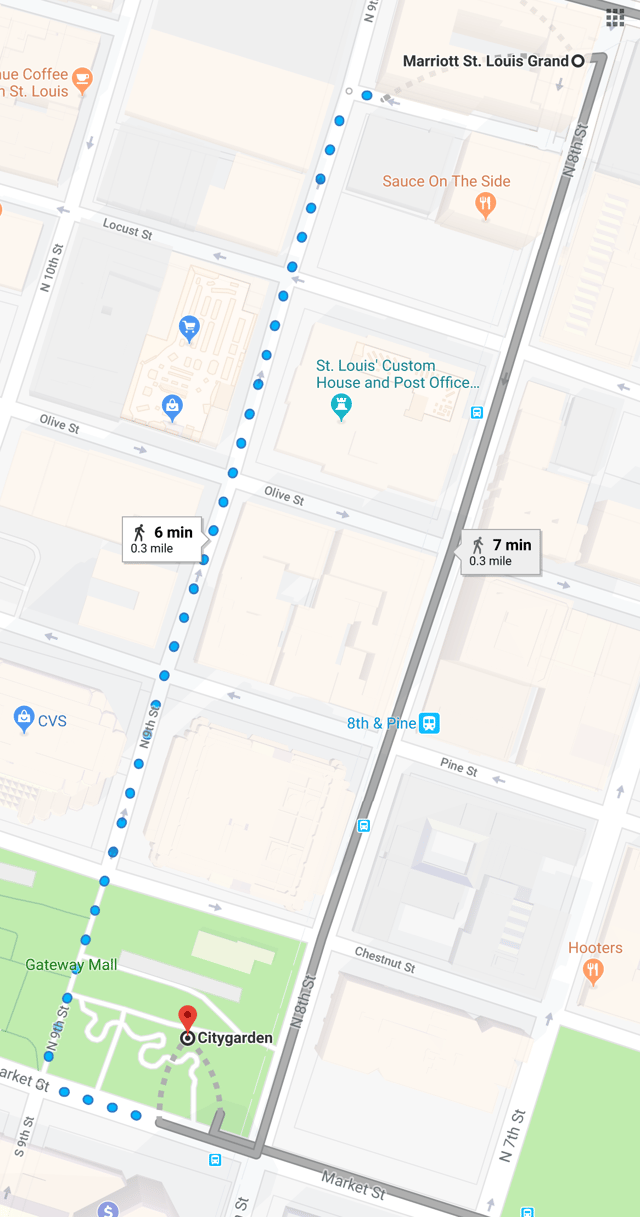 The City Garden is a brief walk from the hotel and it offers water features, interesting sculptures, and local art. It's free to enter and comes highly recommended for any visitor to the city of St. Louis. Don't forget to drop by the DATABASICS booth to learn about the integration with Microsoft Dynamics and DATABASICS Time & Expense.
Jefferson National Expansion Memorial Park (free)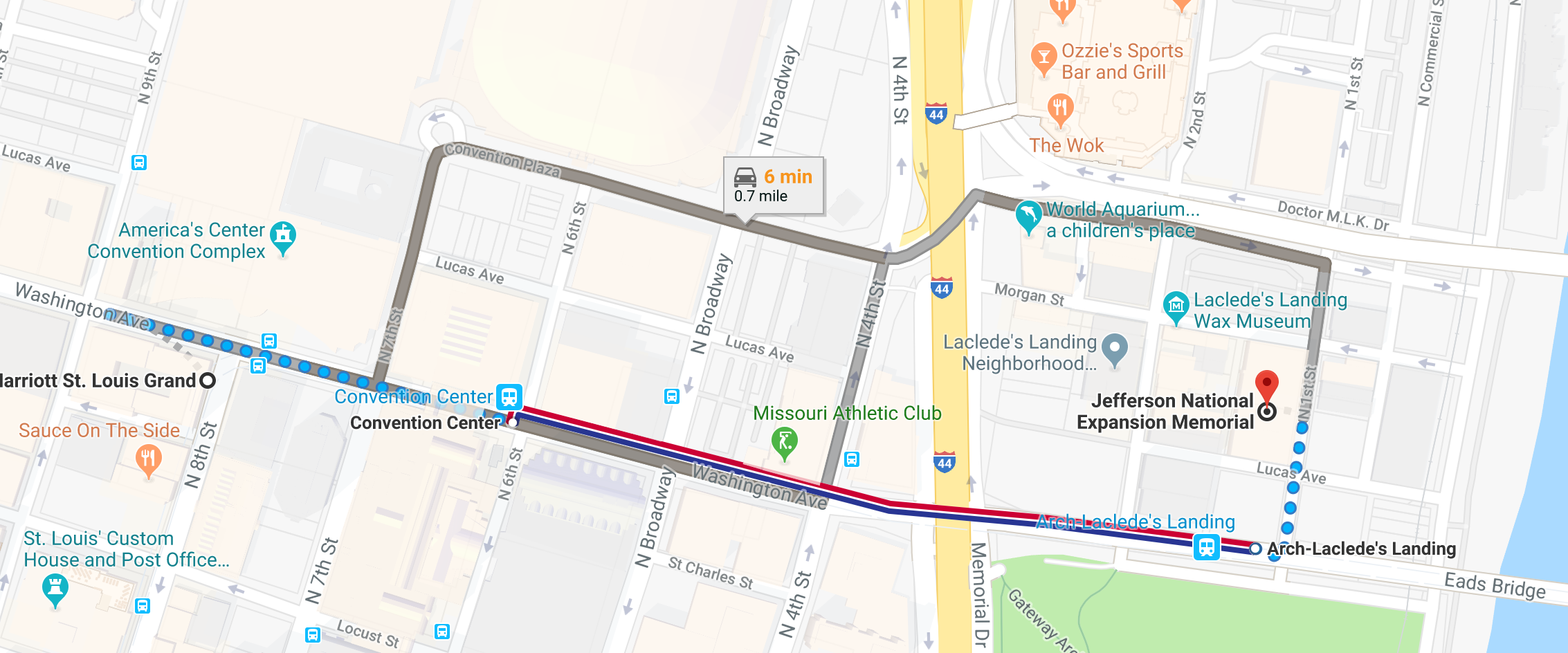 This is about a 6-minute drive from the hotel, but one traveler says that this is a place you have to be sure to visit. "This is a wonderful area to relax and enjoy the Arch and all the other statues that are along the Mississippi River walk."

National Blues Museum ($)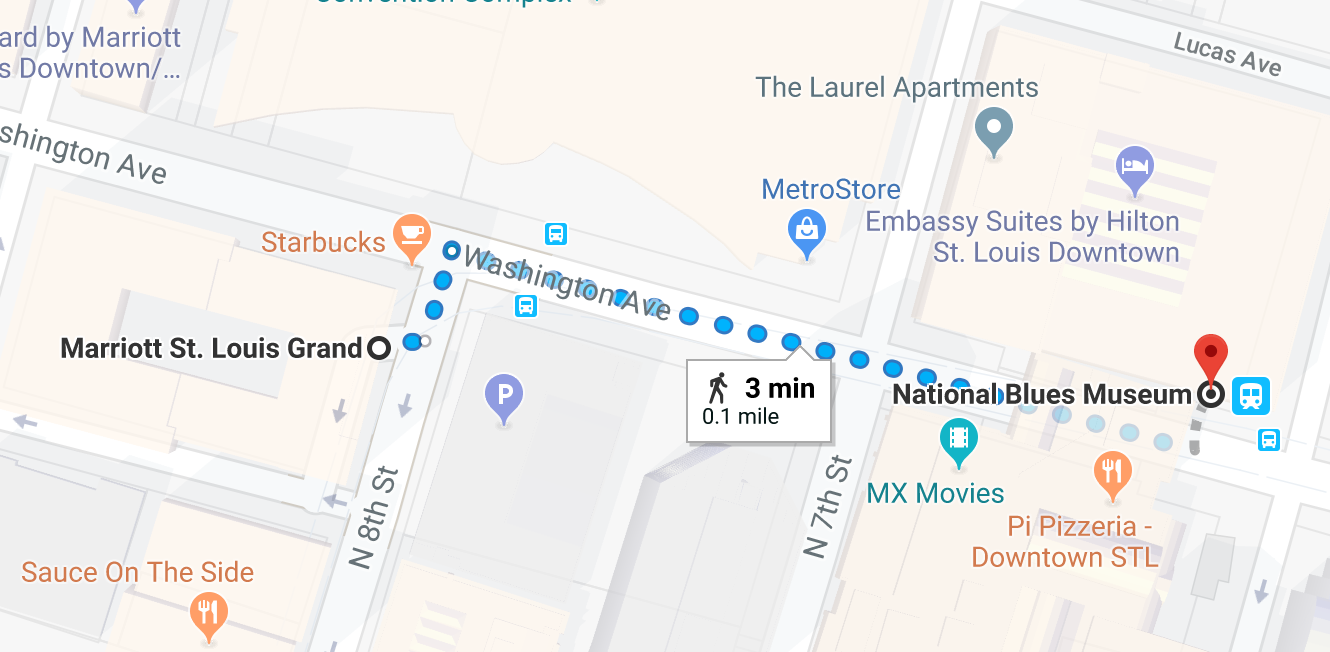 Dedicated to blues music, this museum is a new addition to the city and is highly recommended on TripAdvisor. It's just a 3-minute walk from the hotel and costs around $15 to enter. If you're into music of any kind, this museum is sure to interest you.
Before you know it, the conference will be over, so be sure to soak up as much St. Louis as you can. We hope that this list is helpful in planning your week at the DSLUG conference!
For more information on DATABASICS, contact us, or call (800) 599-0434.

---

DATABASICS provides cloud-based, next generation Expense Reporting, P-Card Management, Timesheet & Leave Management, and Invoice Processing automation. Specializing in meeting the most rigorous requirements, DATABASICS offers the highest level of service to its customers around the world.
DATABASICS is relied upon by leading organizations representing all the major sectors of the global economy: financial services, healthcare, manufacturing, research, retail, engineering, non-profits/NGOs, technology, federal contractors, and other sectors.
Connect with DATABASICS: LinkedIn, Twitter, and YouTube. DATABASICS is headquartered in Reston, VA.