With the The NAPCP's Annual Commercial Card and Payment Conference already here, we're excited to see our friends and colleagues this year for another thought inspiring conference. Here are our Houston food & activity recommendations.
We hope you get a chance to check out the city of Houston while you're here for the conference. And, we hope you'll come visit us! We're especially excited about our breakout session, "Realizing Successful Global P-Card Management: Implementation 3.0," on April 11th. Or stop by and visit us at our booth #24 for a chat.

things to do while in houston

For your enjoyment, we've compiled a list of Houston inspired tasty treats (with your $135 per-diem) and places to see (during your down time when you're not visiting booths and checking out conference events).


Food Within Walking Distance
Pappa Charlie's Barbeque: 2012 Rust Street, Houston, TX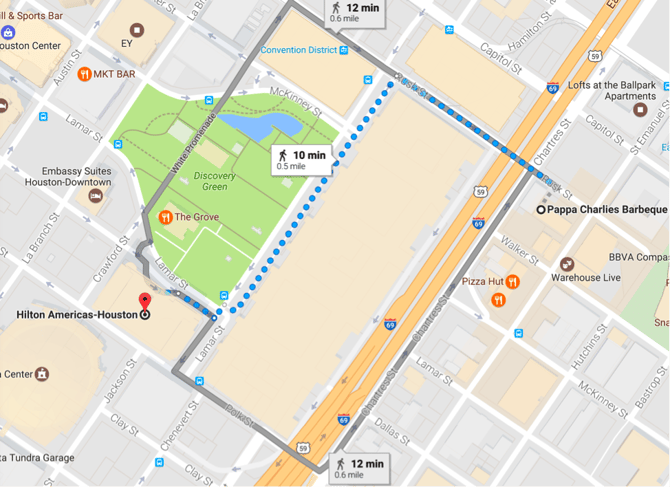 Pappa Charlie's Barbeque is all that lies between you and highly rated mac & cheese and pinto beans (on top of BBQ) is a 12-minute walk from the Hilton-Americas conference hotel. The portions are said to be generous and the prices will help you stay within your per-diem.


The Grove: 1611 Lamar St, Houston, TX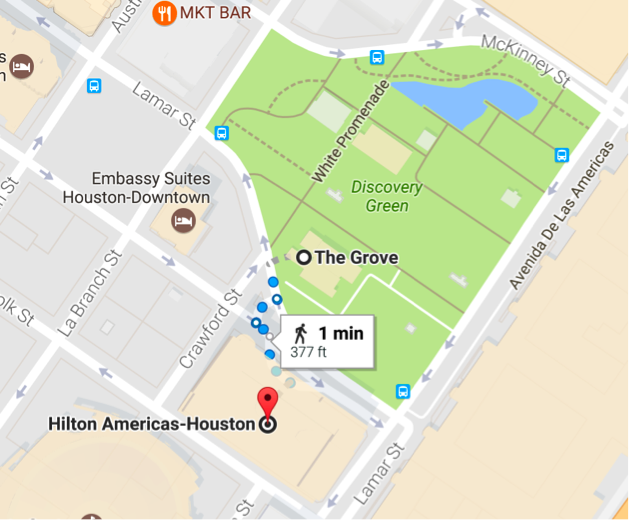 The Grove is just across the street from the Hilton-Americas Hotel is a highly reviewed American restaurant. It's a bit more expense than others listed here, but the menu is very promising. The banana pudding tiramisu in particular sounds delicious, as does their apple bread pudding. It's a place that reviewers say they often return to, even multiple times within the same trip.

Food Within Uber or Walking Distance

Bombay Pizza Company: 914 Main St #105, Houston, TX 77002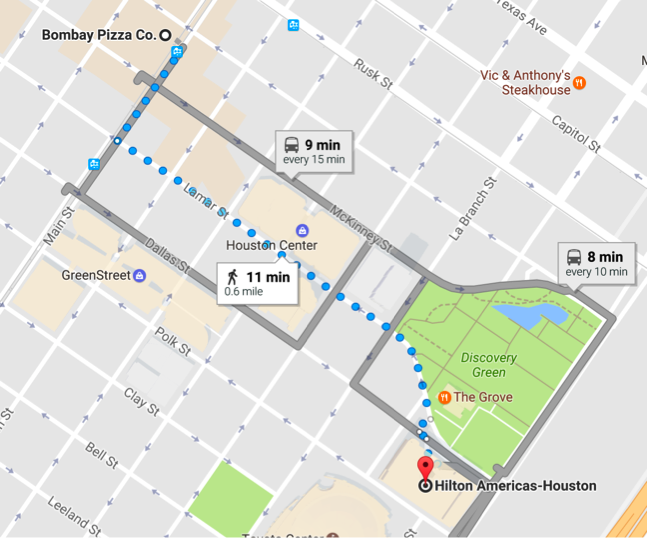 Bombay Pizza Co. is #3 on the Cheap Eats list on TripAdvisor. We had to list it here because we're drooling (from our headquarters in Reston, VA) over their Indian-style pizzas for bargain prices. Hit their happy hour for even more discounts on pizza and wine. And, by the way, the crust is supposed to be fantastic!

Things To Do
Discovery Green: 1500 McKinney St, Houston, TX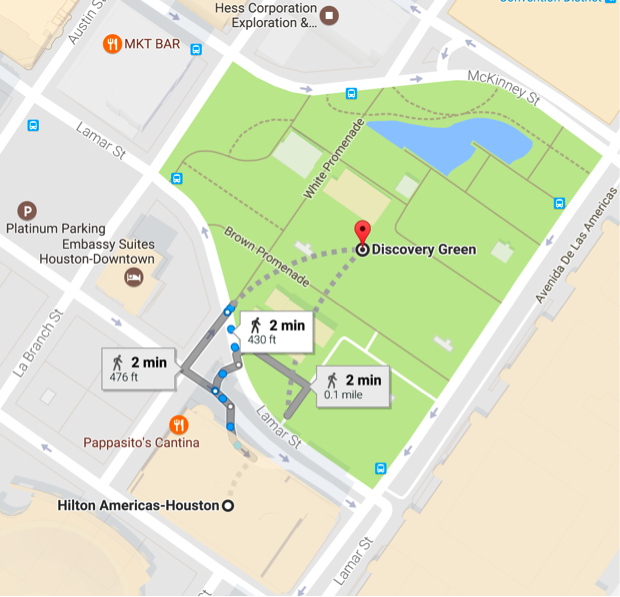 Discovery Green is right across the street from the hotel is a park with free permanent and temporary exhibits. Plus, you can find dogs chasing one another and wrestling over tennis balls in the dog park (if you're a dog person) or you can even take part (or just watch) in their free Parkour event on April 13th at 6:30 p.m. (if you're into "Hardcore Parkour!"). You can also check out a free concert featuring Joel Fulgham Big Band, an 18-piece local Houston group, also starting at 6:30 p.m. on April 13th. Or, if nothing else, you can watch people play with remote controlled boats on the water.
Historic Market Square: 301 Milam St, Houston, TX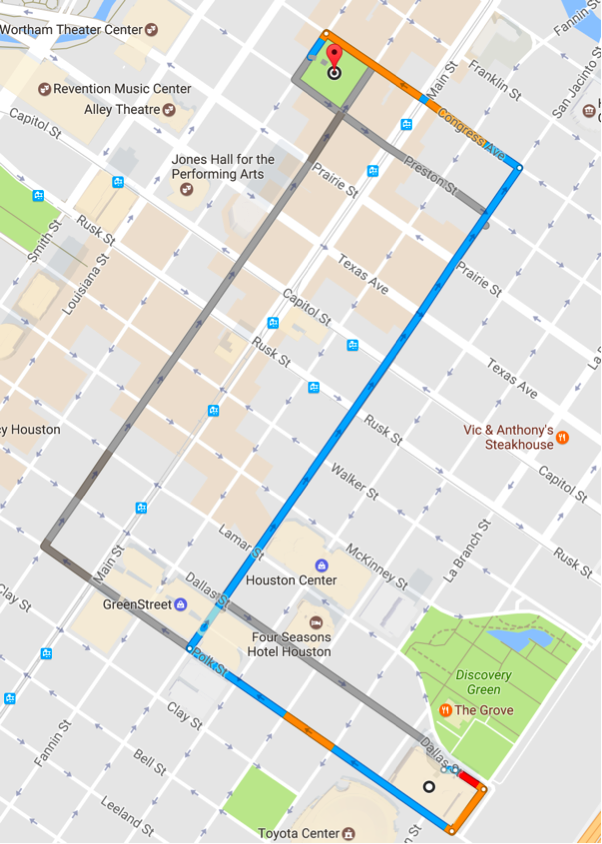 Grab a snack from food trucks that line up in the evening around this historic market. Just be sure to walk or Uber because parking can be hard to find. Plus, you can take in art, check out the two dog parks, or walk through Lauren's Garden. Niko Niko's is also located within the market for cheap walk-up Greek food.
---
Related Article:
5 Benefits of P-Card Program Management You Might Be Missing Out On
---

Learn more about the P-Card program management solution DATABASICS provided for HCR ManorCare in this free case study. See what DATABASICS can do for you.
For more information on the DATABASICS P-Card Program Management solutions, contact us, or call (800) 599-0434.

---

DATABASICS provides cloud-based, next generation Expense Reporting, P-Card Management, Timesheet & Leave Management, and Invoice Processing automation. Specializing in meeting the most rigorous requirements, DATABASICS offers the highest level of service to its customers around the world.
DATABASICS is relied upon by leading organizations representing all the major sectors of the global economy: financial services, healthcare, manufacturing, research, retail, engineering, non-profits/NGOs, technology, federal contractors, and other sectors.
Connect with DATABASICS: LinkedIn, Twitter, and YouTube. DATABASICS is headquartered in Reston, VA.