With GPUG Summit 2017, the MS Dynamics GP user group conference, almost here, we're gathering all data and what to check out in the area (after the conference, of course). Here are our Nashville food & activity recommendations.
We hope you get a chance to check out the city of Nashville while you're in town for GPUG Summit 2017. And, we hope you'll visit us at the Expo Hall! Stop by booth #360 for a chat about our integration!
things to do while in Nashville

For your enjoyment, we've compiled a list of Nashville-inspired tasty treats and places to see (during your down time when you're not visiting booths and checking out conference events).
About the Gaylord Opryland Resort & Convention Center
The conference hotel this year sounds beautiful. All rooms are currently sold out for the week of the conference, so hopefully you've already got your room reservations booked. If you did manage to snag a room, here's the best advice we've heard about checking in:

"Ask for a room near the convention center -- it will save you about a mile."
"Need to be by the convention space? Then ask for Magnolia 2nd floor, convenient for pool too."
"Download the app to help you find your way around the hotel complex."
Keep these in mind at when you arrive!
Food Within Walking Distance
The Nashville Palace: 2611 McGavock Pike, Nashville, TN 37214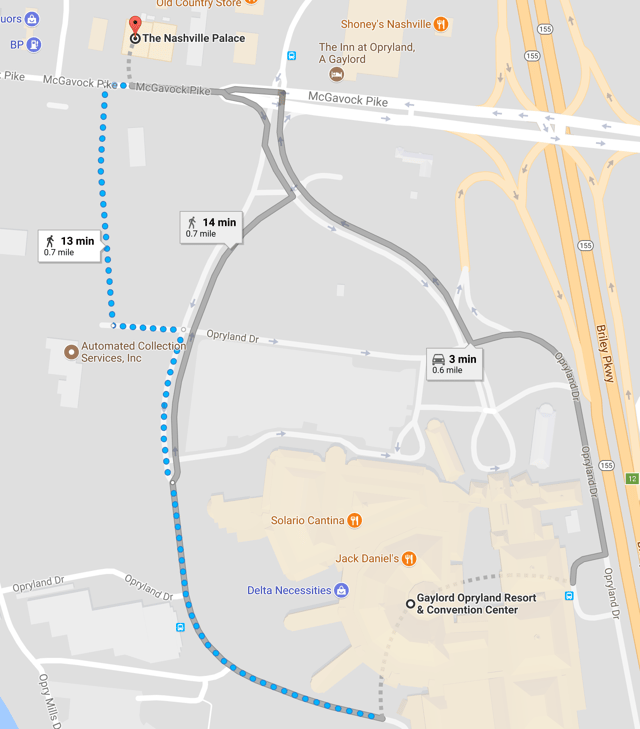 "Great and friendly service are just side notes to tasty eats and good drinks. Not to mention the great music! Try the wings, succotash, and catfish sandwich!" is what one reviewer says about this food/music venue. It's a 13-minute walk, but one that sounds like it's worth it. Something worth checking out on Thursday October 12 at 7 p.m. might be "Jimmy Bowen with Special Guest/Funniest Man in America James Gregory" with tickets as low as $25.
FOOD WITHIN Driving DISTANCE
Peg Leg Porker BBQ: 903 Gleaves St, Nashville, TN 37203-4112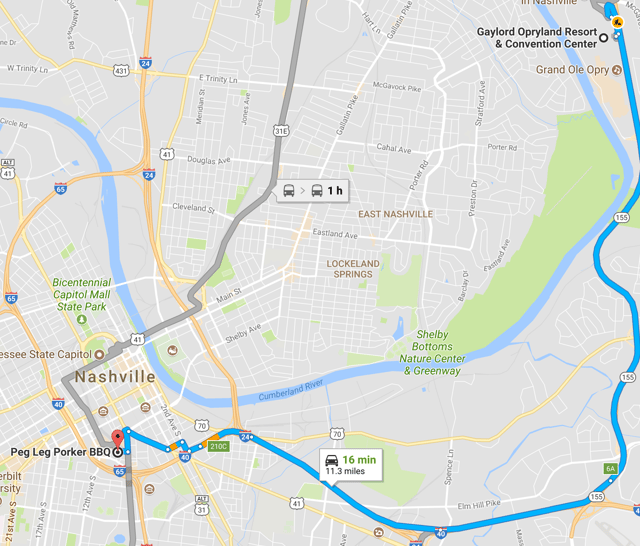 Take the shuttle or grab an Uber or a Lyft for a quick ride to a cheap, delicious meal. This BBQ joint gets high marks for its ribs and its mac and cheese. According to one reviewer, "My wife and I had a rack of ribs, pulled pork sandwich, mac & cheese, kool-aid pickles, beans, and smoked green beans. We both agreed that these were the best ribs and the best pulled pork we have ever tasted. If you find yourself in Nashville you need to come here for the ribs and pulled pork."
Sambuca: 601 12th Ave. South, Nashville, TN 37203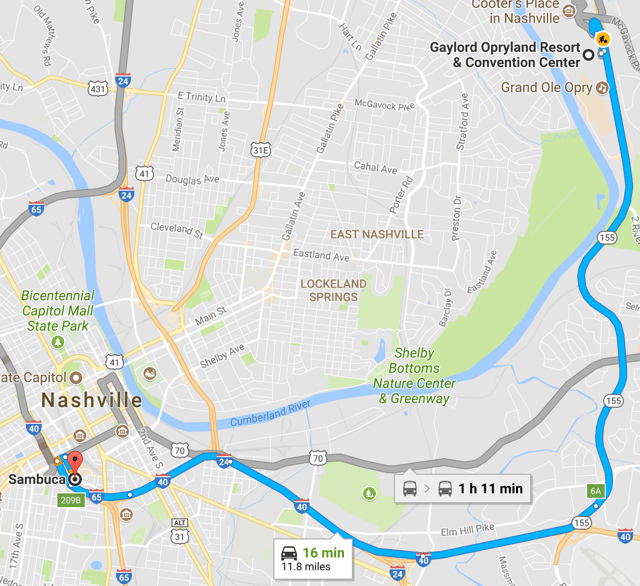 If you're looking for upscale dining in Downtown Nashville, this restaurant comes with good reviews for its fish dishes, steak, and berry cobbler. Plus, there's a live band and an extensive menu. In one reviewer's words, "The food was excellent. Presentation was beautiful, it tasted great, portions were large." This restaurant promises to provide a special night out in Nashville.
---
Related Article:
Workforce Resource Planning: 3 Truths & 1 Lie
---
Things To Do
Shuttles to Downtown Nashville
On Thursday, October 12 from 6 p.m.-11 p.m. you can take advantage of the shuttle provided by the conference to downtown Nashville. According to Thursday's schedule: "Let's hit the dusty trail…to Downtown Nashville! In Music City, you might decide to try your hand at an open mic or just kick up your heels at the honkytonks. Either way, you can count on our event shuttles to get you safely downtown and back to the Gaylord at Opryland Resort."
Grand Ole Opry: 2804 Opryland Dr, Nashville, TN 37214
Right next door and within walking distance from the hotel is the Grand Ole Opry itself, famous for hosting music stars from all over the world. Be sure to check out the calendar for more details on who will be playing.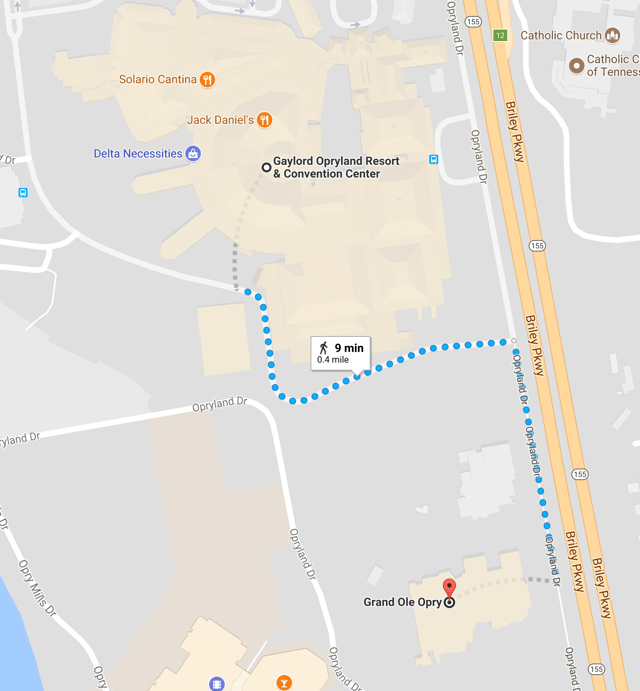 This is a must-do if you're in Nashville. Visiting the main strip will remind you of Las Vegas. Of the downtown area, one visitor said, "So many things to do and see! Walk the bridge, see live music anywhere and everywhere! Walk everywhere! Eat! The food is amazing!"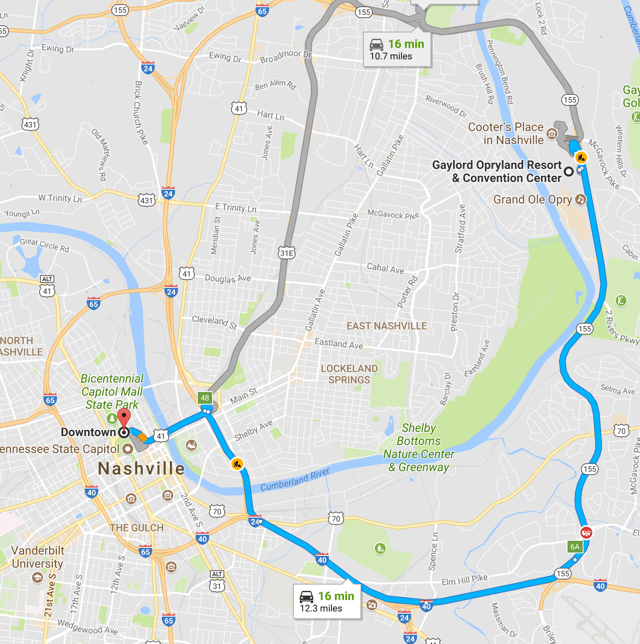 Country Music Hall of Fame & Museum: 222 5th Ave S, Nashville, TN 37203
A 16-minute drive from the hotel into Downtown Nashville (possibly via shuttles provided by the hotel) will get you to the Country Music Hall of Fame and Museum, a high rated experience in the area. One reviewer says that it's "A must see for anyone who listens to music! Great historical and current music performers! Even for those not totally into country!" Current exhibits feature Charlie Daniels, Jason Aldean, Shania Twain, Dylan & Cash, and other American currents. New to the museum will be an exhibit of Lynn Anderson.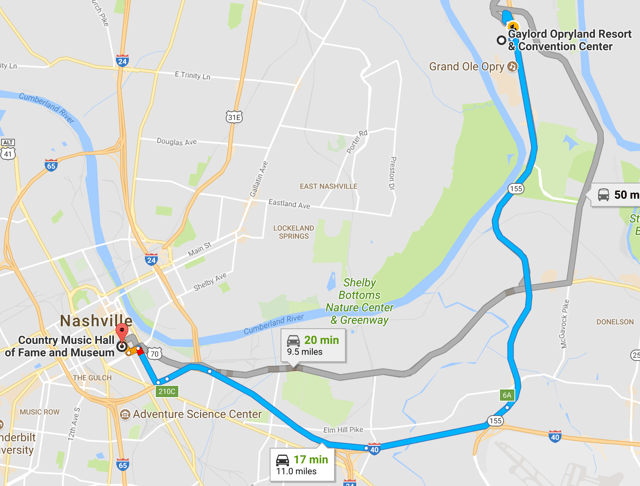 Stay Social!
We'll be tweeting throughout the event about what's happening and about special giveaways at our booth. Look for our tweet so that you can be the next person to visit & take home a prize. Follow us on Twitter so that you can stay tuned!
---

DATABASICS provides cloud-based, next-generation Expense Reporting, P-Card Management, Timesheet, Leave Management, and Invoice Processing automation. Specializing in meeting the most rigorous requirements, DATABASICS offers the highest level of service to its customers around the world.
DATABASICS is relied upon by leading organizations representing all the major sectors of the global economy: financial services, healthcare, manufacturing, research, retail, engineering, non-profits/NGOs, technology, federal contractors, and other sectors.
Connect with DATABASICS: LinkedIn, Twitter, and YouTube. DATABASICS is headquartered in Reston, VA.