In this week's Fun Friday, we're curating several links recently posted from around the web on what we found was a common theme of keeping employees happy. After all, we've all heard that it's wise to splurge on a cushy mattress since we spend 1/3 of our day on it, which becomes bigger since that means we're actually spending more like 1/3 of our life sleeping on it. But, it's not an often-heard argument that we should also splurge on finding the same happiness during our waking hours at our jobs, where we also spend 1/3 of the workday and ¼ of the week.
Luckily, companies are taking notice of the importance of keeping employees happy, which translates to increased talent retention (and also means decreasing costs associated with turnover). In today's curation, we discuss three retention tools that employers are leveraging: flexible working hours, pets in the office, and eliminating "stupid rules."
1. Flexible Working Hours
In the February 2017 issue of the Journal of Accountancy, a 2016 Management of Accounting Practice (MAP) survey details how CPA firms are using "Flexibility as a Retention Tool." Highlights of the survey find that (during fiscal year 2015) more than 95% of the biggest firms (those that bring in more than $10 million annually) were using flexible working arrangements. The companies were organized based on their revenue; findings suggest that companies with higher revenue were more often using flex time & were more often allowing employees to telecommute.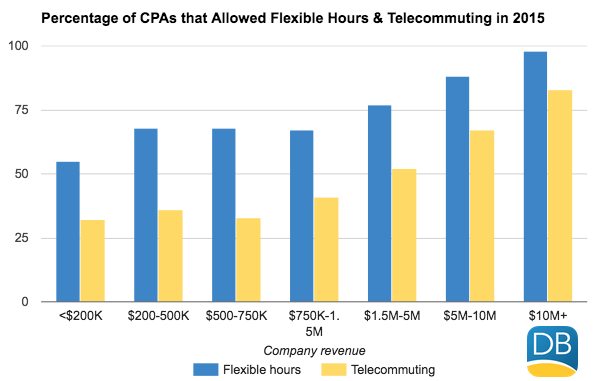 Source: Journal of Accountancy February 2017 "Flexibility as a Retention Tool" for fiscal year 2015
The data tells us that companies generating more revenue offered more flexible working accommodations. That's a nice strategy for keeping employees, for sure. Since so much work is done now online and via email, it makes sense to allow employees to work from home or come in later or earlier, as long as the work is getting done.
On the opposite side of the spectrum, companies that generated less revenue were not using flexible scheduling or telecommuting as frequently. This is an interesting finding for us because it might seem that flexibility might be more difficult to manage at a larger scale. However, the article clearly shows that the opposite seems to be true.
One important part of the article to note in terms of employee retention were statistics on the problem of turnover that "showed an uptick in turnover compared with two years ago."
2. Pet-Friendly Policies



A March 2016 publication from Banfield Pet Hospital adorably titled "Pet-Friendly Workplace Pawrometer" detailed a survey of more than 1,006 employees and 200 H.R. decision makers within varying sizes of companies in 2016. The findings suggest that a handy tactic for retaining employees might just be inviting 4-legged creatures to the office too.
According to the article, "HR decision makers at both pet-friendly and non-pet-friendly workplaces are noticing a rise in interest among employees about bringing their pets to work, with 60 percent agreeing that more employees would like to participate."
That means that if an employer is trying to hang on to an employee, it might be smart to also offer a bed under the desk for a dog or cat. What's surprising is that while both employees and H.R. decision makers were asked about all kinds of issues relating to bringing a pet to work, H.R. decision makers were more likely to agree positively to questions about improving employee morale and wellbeing, as well as reducing stress and improving work-life balance. For every question, H.R. leaders agreed to the question employees, which shows that H.R. is actually mostly supportive of the idea of bringing in pets too.
Source: Banfield Pet-Friendly Workplace Pawrometer
What was really interesting for us was this statistic: 82% of employees say that they feel "greater loyalty to the company" because they can bring their pet into work, while 91% of H.R. leaders feel that employees who have the option to bring their pets to work are more loyal.
This is on top of the possibilities of hiring new talents to the company. More than 60% of H.R. interviewers said that they were often asked about the pet policies in the interview period. Then, those H.R. leaders working for companies that did have pro-pet policies said that they actively spread the word about it as a tool for recruitment.
Loyalty is huge! For such a huge percentage of not only employees and employers to agree that bringing pets to work equates to increased loyalty is an essential statistic. This question was also direction put to survey-takers, with more than half of employees saying that they would be more likely to stay with their current employer if the company offered a pet-friendly policy.
3. Fewer Rules for Rules' Sake



An often-shared 2015 article in Forbes highlighted "Five Stupid Rules That Drive Great Employees Away." She details those 5 rules that she says are making it harder for employees to stay happy in their jobs.
Author Liz Ryan writes that these five policies are to blame for employees who jump ship:
1) "Industrial revolution-era attendance policies"
2) "Insulating performance review processes"
3) "Manager's choice transfer & promotion policies"
4) "Impenetrable pay structures"
5) "Too many policies in general"
Retaining employees, then, becomes a matter of treating good employees like good employees, like that idea that we often tout of using policy only for good, in a way that best supports humans.
Our Friday Takeaway
This was a lot of new data for us to process, so we hope that helping you visualize it will help you retain it a bit better as you learn about methods that employers are using to keep their best employees and avoid having to re-fill positions again and again.
---
Related Article:
10 REAL Questions to Ask When Choosing a Global Solution
---
Another tool that we know helps improve employee loyal is having an employee hub of time & expense tools to show off how professional your company is. Not having the best tools for pay stubs or filing expense reports can be frustrating for any good employee. Learn more about the tools we can provide for making employee tracking and reporting easier than ever.
For more information on DATABASICS Time & Expense Tracking Software, contact us or call (800) 599-0434.

---

DATABASICS provides cloud-based, next generation Expense Reporting, P-Card Management, Timesheet & Leave Management, and Invoice Processing automation. Specializing in meeting the most rigorous requirements, DATABASICS offers the highest level of service to its customers around the world.
DATABASICS is relied upon by leading organizations representing all the major sectors of the global economy: financial services, healthcare, manufacturing, research, retail, engineering, non-profits/NGOs, technology, federal contractors, and other sectors.
Connect with DATABASICS: LinkedIn, Twitter, and YouTube. DATABASICS is headquartered in Reston, VA.