Memes around the Internet agree that Timesheet Day and Expense Report Day are real (and actually commonplace) events that happen all-too-often at many companies.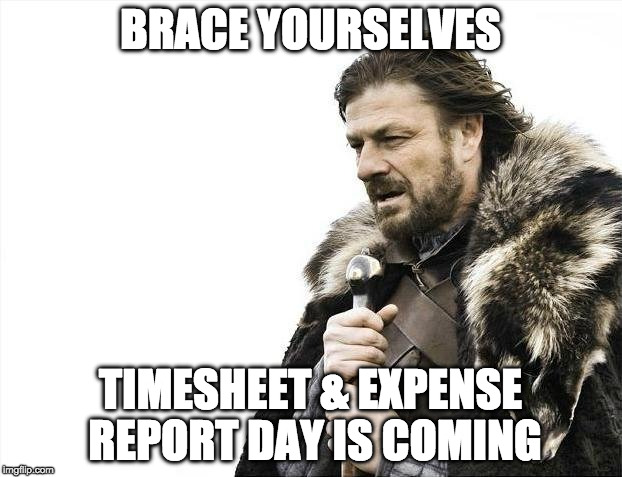 They're probably very real at your organization too, and the dread and procrastination associated with these days can frustrate any administrator or manager. So, we say: get rid of them.
Yes, that's a big claim, but we can back it up. Timesheets and expense reports shouldn't take all day. They should only take a few minutes. If the process for completing timesheets and expense reports is messy, confusing, and—worst of all—manual, then it's no wonder why everyone dreads it. Today's advances, like simple time entry, easy-to-use mobile apps, auto-population of fields through OCR (optical character recognition), and credit card transaction syncing make doing expense reports and timesheets easy and quick, so that employees don't have to procrastinate. They can just get in, get the job done, and get out.
---
Related Article:
Funny Receipt Fails We've Seen & Collected
---
Providing employees with a system that speeds up the process also assists with company culture. Employees can feel trusted and respected when there's no administrator or manager hounding them or reminding them about upcoming deadlines. With an easy system, deadlines have less pressure because the work is already done.
This reduces the tension between employees and administrators, who end up being seen as the bad guy. Motivating employees to get their work submitted on time doesn't have to be a chore and it doesn't have to make anyone look like the bad guy.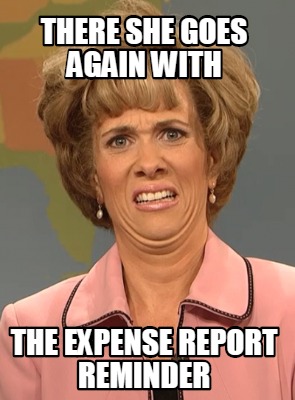 So, we say that you should encourage employees to do their admin work as it arrives. Log in, fill it out, and log out. That way there's nothing hanging over their head. With an automated system, it doesn't have to take days or weeks to get timesheets or expense reports approved and you don't have to hound people to get their work in on time.
Then again, you may already be encouraging employees to do timesheets and expense reports as they go and it doesn't work. The difference with an automated system is that so much of the work is done for you. OCR, for example, is just one example: this technology reads a receipt and inputs the data into the expense report, leaving you to simply double check the information and click submit.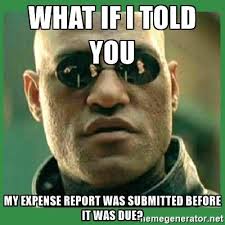 Other innovative technology also does the heavy lifting with features like automated leave management, per diems, and P-Card program management. This lets you and your team get back to your regular workday, so you never have to wake up to another Timesheet or Expense Report Day.
Our recent 7-Minute series is a testament to the fact that we think timesheets and expense reports should be so easy that you can do them in 7 minutes.
We invite you to learn about the latest advances in timesheet and expense reporting that will get rid of Timesheet & Expense Report Day forever. Start by checking out our handy list of key questions for choosing Expense Reporting software below:

For more information on the DATABASICS Time & Expense solutions, contact us, or call (800) 599-0434.

---

DATABASICS provides cloud-based, next generation Expense Reporting, P-Card Management, Timesheet Management, Leave Management, and Invoice Processing automation. Specializing in meeting the most rigorous requirements, DATABASICS offers the highest level of service to its customers around the world.
DATABASICS is relied upon by leading organizations representing all the major sectors of the global economy: financial services, healthcare, manufacturing, research, retail, engineering, nonprofits/NGOs, technology, federal contractors, and other sectors.
Connect with DATABASICS: LinkedIn, Twitter, and YouTube. DATABASICS is headquartered in Reston, VA.