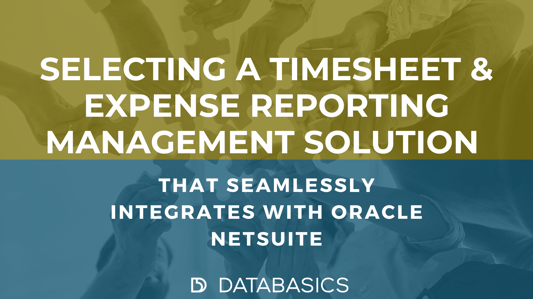 Every organization operates in its unique way when it comes to timesheet and expense reporting. While a few companies employ self-built tools, most prefer third-party software. Regardless of the method, the common need is for a user-friendly time and expense solution.
In this article, we discuss how to select the ideal time & expense management solution when your company is already using Oracle NetSuite, examining several key factors such as:
Understanding the Software
Integrations with Oracle NetSuite
Focusing on Customer Support
Our goal is to guide you in choosing a time & expense management solution that best meets your company's needs.
Understanding the Software
Why is a time and expense solution essential?
A time and expense solution proves crucial for organizations seeking to:
Accurately track labor and project costs
Efficiently manage employee time and expenses
Consolidate all project data in a single, reliable location
Simplify data analysis and reporting
Facilitate effortless data integrations with accounting, payroll and HRIS systems.
Maintain control over labor and project data for informed decision-making
What features should you seek in time & expense software?
Integration with Oracle Netsuite: Integration capabilities should come first and rightly so; it's essential to ensure that the integration will be set up correctly and be thoroughly tested to ensure that it's working efficiently.
Mobile app: As most solutions are cloud-based, they can be accessed from any device with an internet connection, making it simple to manage time and expenses on the go.
Time Tracking: An effective time tracking system allows for easy monitoring of time spent on tasks, projects, and client work, making reports such as cost analysis and employee wages readily available and comprehensible.
Integrated Leave Management: For organizations with flexible plans or unlimited vacation policies, built-in leave management capabilities ensure easy tracking and provide visibility into employee availability, enabling managers to allocate work efficiently.
Expense Reporting: This feature streamlines the tracking of all types of expenses, including business mileage and employee travel related to company matters. When integrated with Oracle NetSuite, this functionality delivers greater insight into team spending without requiring labor-intensive calculations.
Integrations with Oracle Netsuite
The importance of ERP integration
For those looking to optimize and streamline business processes, it's essential to consider the synergy between these two powerful systems. By integrating Oracle NetSuite with time & expense management software, organizations can centralize time and expense data to generate insightful reports, streamline billing, and simplify payroll.
Maximizing Oracle NetSuite with Cloud-Based Time & Expense Management
Cloud-based solutions are ideal for increasing efficiency and accuracy in company operations. By incorporating cloud-based time and expense software, organizations can manage their business with agility and mobility. Integrating with NetSuite ensures seamless compatibility, enhancing productivity throughout the organization.
DATABASICS' cloud-based time & expense solution integrates via a bi-directional API with Oracle NetSuite.
Focus on Customer Support
The significance of customer support
Providing excellent customer support is a common challenge for time & expense management solution providers. The primary reason is that customer service often takes a backseat until a problem arises. Unfortunately, many companies overlook the importance of considering their customers earlier in the process.
Our approach at DATABASICS centers on prioritizing customers from the beginning, designing products that cater to their needs and equipping employees with the necessary tools and information to deliver exceptional service. As a testament to our commitment, we offer 24/7 customer support.
Conclusion
Ultimately, the goal is to select a solution that is easy to use, integrates effortlessly with existing software tools, and ensures data security. With various options available in the market, finding the right fit should be manageable, as long as you keep these tips in mind when making your decision.
For more information how DATABASICS supports Oracle Netsuite customers please visit this page. For more information on the DATABASICS Time & Expense solutions, contact us, or call (800) 599-0434.

---
DATABASICS delivers time and leave tracking, expense reporting, and employee purchasing management solutions that lead the industry in value, performance, and adaptability. Integrations are offered for major accounting, payroll, and HR providers. DATABASICS' customers range from regional businesses and nonprofits to global enterprises.

Connect with DATABASICS: LinkedIn, Twitter, and YouTube. DATABASICS is headquartered in Reston, VA.