Employees and employers are facing two major and somewhat contradictory challenges moving into 2017. The first is that a new concept-turned-buzzword is making its way through the Internet: "mobile-first." According to a January 2017 post in the SD Times, mobile-first is now standard as a result of the fact that we spend more time than ever before searching and working and playing on our mobile devices. The second challenge is that it can be difficult to move employees (and even employers sometimes) into the present.
The mobile-first concept comes from the way Google changed its web-crawlers to search for websites with mobile compatibility, meaning that Google performs mobile-first indexing that shows only those websites with mobile compatibility.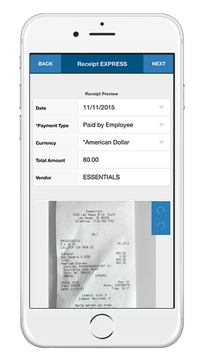 Meanwhile, a 2015 USA Today article announced that more than half of business travelers were paying for their expenses themselves just because they didn't want to do the work of filing an expense report. Here at DATABASICS, we are bothered by the idea that expense reporting is such a headache that these employees don't even bother.
It's never been more true than now that consumers and buyers want both more and less; they expect their products to do more of the work using less effort. That's why it's essential to emphasize products that exemplify "S.I.M."-thinking: shorter, interactive, and mobile.
Whether it's fees, tolls, or tips, filing the expense report should be worth the hassle of getting reimbursed. That's why there should be flexibility in the way expense reports are filed. This way, users can decide whether they want to use their mobile device to take a snapshot of the receipt, whether they want to connect their credit card to their account, and whether they prefer to scan, upload, and/or fax receipts.
---
Related Article:
Artificial Intelligence (A.I.) & Automation: One is the Future, the other the Present
---
Either way, the company's time and expense vendor should be responsible for providing the ability for users to make this decision.
For more information on DATABASICS Expense Software, contact us or call (800) 599-0434.

---

DATABASICS provides cloud-based, next generation Expense Reporting, P-Card Management, Timesheet & Leave Management Management, and Invoice Processing automation. Specializing in meeting the most rigorous requirements, DATABASICS offers the highest level of service to its customers around the world.
DATABASICS is relied upon by leading organizations representing all the major sectors of the global economy: financial services, healthcare, manufacturing, research, retail, engineering, non-profits/NGOs, technology, federal contractors, and other sectors.
Connect with DATABASICS: LinkedIn, Twitter, and YouTube. DATABASICS is headquartered in Reston, VA.