In today's post, we're busting three myths about time-tracking software. While we agree with findings about the upsides of time-tracking software, we're also happy to provide more information about perceived downsides.
Let's get the benefits out of the way because they're easy to spot: time is more accurately kept, which is good for the employee and the employer since both can see when things are going well and the employee is being productive. And, of course, a primary benefit is that time-tracking software is automated, which means that less time is wasted on manual data entry and tracking, freeing up HR leaders and employees to do their real jobs.
Now, let's get to the myth-busting:
Myth: Using time-tracking software means the employer doesn't trust the employee.



Fact:

Using time-tracking software takes the pressure off of the issue of trust for the employee and the employer because the software can only report the truth.



The opposing viewpoint says that employees using time-tracking software might feel like the employer does not trust their manual inputs. However, what is not acknowledged in this argument is the fact that using this software can decrease the amount of pressure on employees to ensure that they are submitting the most accurate times.

For example, let's say that an employee is hard at work on the job, but then they forget at the end of the day to log exactly what they worked. The next day, maybe they forget again, which means that the first day's activities and hours logged will be an estimate. While this might be a fair estimate, the employee might accidentally under or over report, causing stress either way because the employee should be paid what they've earned, but they might also feel guilty for possibly over-reporting. Automated time-tracking software could prevent this situation with Start/Stop buttons, but also with an automatic stop-time configured when pressing "start." Plus, the system can track and provide alerts for when something is out of the ordinary.

Myth:

Time-tracking software shouldn't be trusted because it can be faked.



Fact:

Time-tracking software uses role-based administration combined with internal security controls to prevent faked time reporting.



What's not acknowledged in this argument is the fact that there are systems that cannot be cheated through proxies. Plus, if employees are using proxies in the sense that they are allowing their co-workers or others post to their timesheets for them, the problem isn't with the timesheet system; the problem is with the role-based administration and proxy assignments of the company.

If a manager or co-worker has system access to one employee's timesheet, that problem can be prevented by having internal security controls that allow only the employee to enter their own data. Passwords, of course, can be stolen or guessed if the password is one of the most common passwords of 2016. That's a matter of educating employees on best IT practices. Overall, these are symptoms of a larger problem: if an employee is falsifying their time, this leads to an entirely different matter that should be solved with a conversation with H.R. about the kinds of people being hired.

In the end, this disadvantage becomes an advantage because time-tracking software can bring discussion of this problem to the forefront with increased visibility into inefficiencies. A quick audit can provide details into problems, bringing these formerly hidden concerns to the forefront so that they can be resolved.
Myth: Time-tracking software can lead to employee burnout and decreased productivity.

Fact: Time-tracking software increases productivity through automation.



The job employees most dread, the job that keeps them busy doing busy work instead of keeping them busy doing actual work, is manual data entry, whether its their timesheets or their expense reports.

Having these extra administrative jobs to do adds to the 61% of time employees are already managing their work; according to a recent McKinsey publication, employees spend 28% of their time reading and answering email, "19% of their time searching and gathering information, and 14% of their time communicating and collaborating internally." This does not necessarily amount to wasted time, but adding manual data entry on top of it prevents employees from using the 39% of their time remaining to do their jobs.
In the end, let's think about the role of timesheets and time-tracking in the first place.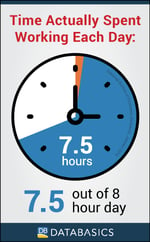 We recognize that there are studies out there that say that the 8-hour workday doesn't always equate to eight hours of work (it's more like 7.5 hours, give or take depending on your job, according to a January 2016 study published by the National Bureau of Economic Research).
This is why it's also important to hire people who will honor those 10 minutes to log their time, filling the notes section with details about their accomplishments for the day.The timesheet should be a motivator that logs all the successes of the day, something to be proud of, something that shows off an employee's performance. We choose to look on the bright side of timesheets and time-tracking, giving us an opportunity to look at all we've done and how much more we get do to tomorrow.
For more information on DATABASICS Timesheet Tracking Software, contact us or call (800) 599-0434.


---

DATABASICS provides cloud-based, next generation Expense Reporting, P-Card Management, Timesheet & Leave Management Management, and Invoice Processing automation. Specializing in meeting the most rigorous requirements, DATABASICS offers the highest level of service to its customers around the world.
DATABASICS is relied upon by leading organizations representing all the major sectors of the global economy: financial services, healthcare, manufacturing, research, retail, engineering, non-profits/NGOs, technology, federal contractors, and other sectors.
Connect with DATABASICS: LinkedIn, Twitter, and YouTube. DATABASICS is headquartered in Reston, VA.