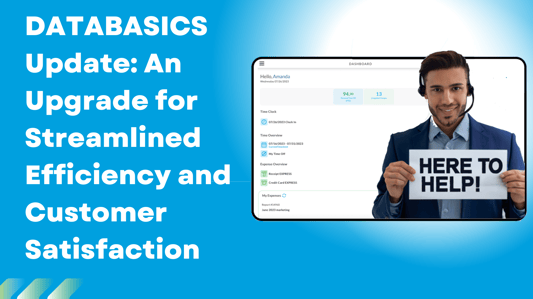 We're proud to introduce the latest DATABASICS update, which builds upon the value and range of utility offered by our services. This new release aims to address the diverse needs of our clientele by adding new features like automated expense report creation and approval by email. The goal is to improve the experience for our customers in all industries, from regional nonprofits to global enterprises. We're eager to help streamline and optimize your timesheet and expense reporting process.
New Features and Enhancements
The latest iteration of DATABASICS features updates across both expense and time tracking systems. Here are some noteworthy enhancements:
Streamlined user experience: Refreshed UI, improved navigation, and expanded Time & Expense workflows.
Enhanced filtering options: Gain better control and focused results with additional filters.
Approval optimization: Enable approvers to quickly and conveniently approve/reject via email, and added personalization with picture profiles on reports.
Enhanced Corporate Card Support: With this update, we have expanded our association with American Express (AMEX). Now, AMEX small business card transactions can be directly supported, making the expense management process even more seamless.
Introducing Automated Expense Approval
A highlight of this update is the Automated Expense Report Creation and Approval. This addition gives organizations the ability to auto create and approve recurring expenses, such as mobile bills, allowances, and other costs that companies incur on a monthly basis.
With the Automated Expense Creation and Approval feature, the system will automatically generate and approve the expense report for each month, without the need for manual intervention. This not only eliminates the need for repetitive tasks but also minimizes the chances of human error.
The convenience and time-saving benefits of the Automated Expense Creation and Approval feature are truly game-changing. Users no longer need to spend time entering the same expenses on a monthly basis knowing that their recurring expenses are being taken care of automatically. This also supports quicker reconciliation by the accounting and finance team.
Whether you're a small business or a global enterprise, the Automated Expense Creation and Approval feature is designed to cater to your needs. It's just one of the many ways DATABASICS is committed to delivering comprehensive and customer-driven solutions. With this latest update, we continue to evolve and adapt to meet the diverse requirements of businesses worldwide.
Approve Expenses via Email with Ease
Recognizing the importance of an efficient approval system, we are thrilled to unveil our Email Approval Feature. This addition streamlines the process of approving or rejecting expense reports, saving you time and effort.
With our Email Approval Feature, you can now easily review and take action on expense reports directly from your inbox. No more logging into the system or navigating through multiple screens. The email notification will provide you with a PDF of the report for your review, along with a link to approve or reject it. The email approval feature also offers the flexibility to login to DATABASICS directly from the email. This means that you can access additional information or make any necessary changes without having to navigate away from your inbox. We have made it as easy and efficient as possible for you to manage expense reports with just a single clicks.
Support & Training
As a testament to our commitment towards customer satisfaction, we offer robust support and training resources. Whether you need assistance with system configuration, want to learn more about the upgraded features, or require training resources, simply contact our professional services team at your convenience.
In the coming months we will also introduce additional training options for our new and existing customers. These tailored services include one-on-one, video, and virtual training. More details will be released soon. To dive deeper into our latest DATABASICS version, we'll be hosting a series of in-depth yet casual webinars. These interactive sessions will explore the features of our new release, offering detailed insights and handy tips. We cordially invite you to be a part of these informative webinars to fully harness the potential of our updated solution. Stay tuned to our social media pages and regularly check your email for updates regarding the webinar timings and other related information. As always, our objective is to create a seamless, convenient, and rewarding experience for you as you navigate the improved world of DATABASICS.
For more details on these features and how to use them, check out the detailed V8 release notes.
Our aim is to continuously evolve, and this latest update reinforces our commitment to provide comprehensive and customer-driven solutions for diverse business needs.
---
DATABASICS delivers time and leave tracking, expense reporting, and employee purchasing management solutions that lead the industry in value, performance, and adaptability. Integrations are offered for major accounting, payroll, and HR providers. DATABASICS' customers range from regional businesses and nonprofits to global enterprises.

Connect with DATABASICS: LinkedIn, Twitter, and YouTube. DATABASICS is headquartered in Reston, VA.